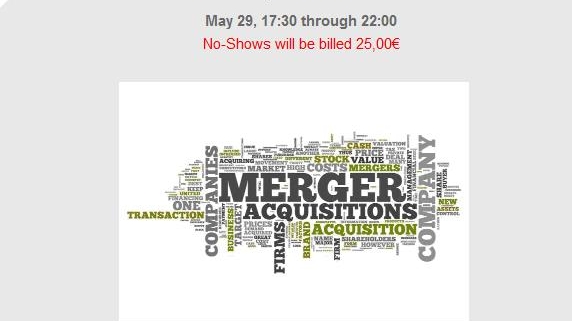 ISACA Lu AGM 2019 – InfoSec in Mergers & Acquisitions
Animated by Dr. Marco ERMINI
May 29, 17:30 through 22:00
No-Shows will be billed 25,00€
JOIN US AT:
Patisserie de Namur
2, rue de Bitbourg, L-1273, Hamm
Dear Members, All,
Isaca.Lu requests your company to its Annual General Meetingto review our Accounts for 2018 as well as renew our Board, and other key events of the past year. The AGM will be followed by a Conference and closed with a Networking Cocktail.
This year's Keynote Speaker will be Dr. Marco ERMINI, Orange Business Germany who'll discus:

Mergers & Acquisitions – Forgotten Son of Information Security

Subject Description: There are no ISO or other standards and, few publications or dedicated books on Managing Merger & Acquisition regading Information Security.
Generally, M&A Due Diligence teams have little care for a target company's ICT security and compliance program.

After the session, we will be able to consider:
   Define Information Security risks & threats in Mergers & Acquisition operations
   Depict a strategy for integration which helps avoiding precarious IT migrations, proliferation of unsanctioned tools, a regulatory mess and huge impact of legacy infrastructure
   Scoping the threat actors and their interests
   Identify why it is important that InfoSec be involved in the early phases of a Due Diligence process, and how it can affect the operation itself including the monetary transactions
   Recognize how Cloud affects InfoSec M&A and how it can help mitigate risks
   Use scanning and OPSEC tools without violating laws and NDAs
   Understand the role of the Security Manager in the whole process
Biography: Dr. Marco Ermini, Orange Business Germany
   Is a Senior security expert, system & network security architect, as well as a team leader.
   Holds degrees in Philosophy, Mathematics and Computer Science
   Has +20 years working experience in ICT,
   Responsibility for security of worldwide networks and world-class critical systems in large enterprises;
   Major projects with public, banking, industrial and telecommunication firms;
   Standards such as ISO 27001/COBIT/SoX; mobile networks and applications;
   Cloud security; risk assessments.
Date & Time: May 29th, From 17:30 through 22:00
   Registration:                       17:30
   AGM:                                   18:00
   Conference:  18:30 through 20:00
   Networking Cocktail ends   22:00
Location: Patisserie de Namur, Rue de Bitbourg 2, L-1273, Hamm

Continuous Professional Education: 3 CPEs
No shows will be billed 25.00 €
https://apdl.lu/wp-content/uploads/2019/05/ISACA-29may.jpg
487
572
Administrateur APDL
http://apdl.lu/wp-content/uploads/2016/08/LogoAPDL.jpg
Administrateur APDL
2019-05-10 10:08:03
2019-05-10 10:14:44
Event ISACA May 29 AGM + Mergers & Acquisitions applied to ICT